PET PORTRAIT GALLERY (CLICK HERE)

COST:
The cost is for one pet in the painting.  If you want more than one pet, we will negotiate a cost that is satisfactory to all concerned.
$350.00 per pet plus shipping charges with $175.00 non-refundable  advance.  
The average canvas sizes range from 8 x 10 inches  to 16 x 20 inches.  The kind of pet determines the size. All paintings are done in oils and on linen. They will arrive to you unframed and carefully packaged.  Expect 4 to 6 weeks upon receipt of your down payment. 
I request a minumum of three photos of your pet so I can get a "feel" for him or her. One of the three will become your portrait.  
I am a spiritual painter. As I paint, I connect with your pet. Together, your pet and I create their portrait. It sounds weird, I know, but here's what clients are saying:
"This is a woman with an extraordinary talent for bringing through the spirit of the animal. The painting of my three dogs is a treasure. Cam completely captured the personalities. All are in Spirit now, but they live on in our hearts daily with this portrait." —L.S.Wahlund

"Your pet portraits are so beautifully done and carry the energy of the pet's spirit.  I love Stan & Ollie's portrait you painted and everyone who sees it is amazed at their energy in the portrait."  —M. Ray
CB Williams has painted several of my special pets for me. Each painting captured their inner beauty and is a treasured item to me. Cammy has a true skill for revealing you pet's soul on canvas.  Do it!—J.Foster
We love the portrait of our little dog that was killed….it's like she's looking right into our eyes. Cammy did a truly wonderful job from only a photo. —J. Jackson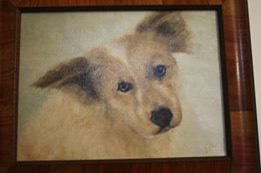 If you are interested in a pet portrait, please inquire with an email . I look forward to painting your beloved fur family.