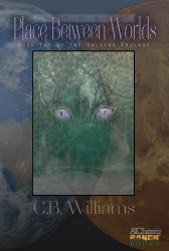 THE PLACE-BETWEEN-WORLDS published October, 2012 by AlChemy Ranch Books   $6.95 for paperback, $1.99 Kindle. Every Walker knows it is unwise to linger in the Place-Between-Worlds. But when Kate's sentient sword, TinneHolm, is summoned there by an Ancient One, Kate must follow. And she must go alone without Ash, who is urgently needed to help their Kinsmen flee to a new and safer home. Kate is led by the glowing TinneHolm into the swirling mists and barren plains of the Place-Between-Worlds—and into deadly dangers which threaten her, the toddler King Joey, and all else she holds dear.
CLICKER HERE TO READ THE FIRST TWO CHAPTERS
Here is a recent review:  
" C. B. Williams just keeps getting better.  This second book in her Walkers Trilogy sweeps you right up and carries you back into the story immediately.  Williams doesn't mess around.  This one is a bit darker than the first book, but I enjoyed the Ancient One and Mog and look forward to more of them in the next book..  This series may be written for young adults, but readers of all ages should enjoy it.  I know I did."